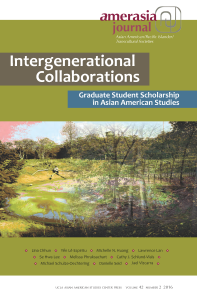 Amerasia Journal's newest release "Intergenerational Collaborations" celebrates its 45th anniversary by highlighting graduate student research in Asian American Studies.  A first for Amerasia, the special issue focuses exclusively on graduate student essays that benefited from collaborations between these emerging scholars and their esteemed mentors.  As guest editors Yến Lê-Espiritu (University of California, San Diego) and Cathy Schlund-Vials (University of Connecticut) explain the inspiration for the project, "'Intergenerational Collaborations' brings to light the disciplinary diversity of a critical field that reflects and refracts histories of race-based oppression, the ongoing-ness of U.S. empire, and the possibilities embedded in cross-racial solidarities."
The research collected feature new perspectives that seek out complex and under-explored intersections, be they between ethnic and racial groups or transnational engagements.  Divided into two parts, the first focuses on "Community Formations and Communal Histories."  Lawrence Lan offers a look at China City, a tourist attraction in Los Angeles that existed from 1938 to 1948, delving into the relationship between development projects, white supremacy, and U.S. imperialism.  Michael Schulze-Oechtering's essay traces what he calls the "cross-fertilization" of African American and Filipino American labor consciousness, connecting blues epistemology and Manong knowledge.  Transnational border-crossings are the focus of Jael Vizcarra's description of Laotian refugee resettlement to Dirty War-era Argentina in the late 1970s and Se Hwa Lee's study of Korean wild-geese mothers navigating co-ethnic networks for their children as they migrate to North America.
The second half of "Intergenerational Collaborations" is devoted to issues of cultural representation.  Melissa Phruksachart rethinks Asian American representation in television, explaining how 1950s-'60s sitcoms are part of a "televisual genealogy of the model minority."  Two essays turn to Asian American literature and how its dimensions have expanded:  Michelle Huang cites genetics and science fiction studies alongside Asian American Studies in her analysis of Larissa Lai's Salt Fish Girl, while Danielle Seid interrogates the intersections between trans identity and the Asian immigrant experience in Kim Fu's For Today I Am a Boy.  Lina Chhun considers how different archives and art capture–or fail to capture–Cambodian memories of war atrocities and their aftermath.
The guest editors and staff of Amerasia Journal are pleased to have brought together a diverse issue that presents some of Asian American Studies rising scholars, as well as offers a glimpse of the future of the field. This issue also includes a profile of the Orange County-based Vietnamese American Arts and Letters Association, a non-profit organization that reaches out to communities through Vietnamese arts and culture.  Books reviewed include Khatharya Um's From the Land of Shadows, Robeson Taj Frazier's The East Is Black, the collected volume on Hawaiian sovereignty A Nation Rising, and Sean Metzger's Chinese Looks.
[PDF of this Press Release]
---
ORDERING INFORMATION
Copies of the issue can be ordered via phone, email, or mail.  Each issue of Amerasia Journal costs $15.00 plus shipping/handling and applicable sales tax.  Please contact the Center Press for detailed ordering information.
UCLA Asian American Studies Center Press
3230 Campbell Hall, Los Angeles, CA 90095-1546
Phone: 310-825-2968 | Email: aascpress@aasc.ucla.edu
Facebook: http://www.facebook.com/AmerasiaJournal
Amerasia Journal is published three times a year:  Spring, Summer/Fall, and Winter.  Annual subscriptions for Amerasia Journal are $99.00 for individuals and $445.00 for libraries and other institutions.  The annual subscription price includes access to the Amerasia Journal online database, with full-text versions of published issues dating back to 1971.  Instructors interested in this issue for classroom use should contact the above email address to request a review copy.
---
SPECIAL THANKS TO OUR MENTORS:
K. Scott Wong, Williams College
Judy Tzu-Chun Wu, University of Irvine
Lisa Sun-Hee Park, University of California, Irvine
Min Zhou, Nanyang Technological University and UCLA
Peter X. Feng, University of Delaware
Crystal Parikh, New York University
Tina Chen, Pennsylvania State University
Lisa Yoneyama, University of Toronto
---
ARTICLE ABSTRACTS
Title:  The Rise and Fall of China City
Author(s):  Lawrence Lan
Affiliation(s):  UCLA
Abstract:  This essay brings Los Angeles's short-lived China City into a broader narrative of United States Orientalist fantasy, comparative racial formation, and imperial multiculturalism in the 1930s and 1940s.  On June 7, 1938, wealthy socialite Christine Sterling unveiled her latest tourist and commercial project to the public:  China City.  For the next ten years, before it burned down for the second and last time in 1948, China City existed as a commercial tourist attraction to outsiders who came to enjoy the Orientalist spectacle captured by Sterling's vision, which included set pieces and costumes taken from the film adaptation of Pearl S. Buck's The Good Earth, and a "Great Wall" motif donated by filmmaker Cecil B. DeMille.  Through the examination of mainstream newspaper accounts, this essay locates a domesticating mode of white supremacy in China City and argues that Christine Sterling's "dreams of Oriental romance" in China City represented a mode of white supremacy that attempted to mobilize images of Chinese racial difference to support U.S. imperial projects in the Pacific. The "failure," or transience, of China City marked the limits of such a commercial, racialized spectacle at this historical moment. Against the backdrop of various local, national, and transnational contexts.
Title:  The Alaska Cannery Workers Association and the Ebbs and Flows of Struggle
Author(s):  Michael Schulze-Oechtering
Affiliation(s):  University of California, Berkeley
Abstract:  The recent scholarship of civil rights historians and ethnic studies scholars have troubled the notion that appeals to a "common oppression" as "people of color" can unify multiracial coalitions.  Rather, they have built their analysis around the concept of "differential racialization."  While distinct racial experiences should not be conflated, we also know that that communities of color do not live in isolation.  With this later point in mind, this article examines an understudied history of black and Filipino labor solidarity in the Pacific Northwest.  Specifically, my analysis centers the Alaska Cannery Worker Association (ACWA), a group of Filipino and other non-white white cannery workers in Alaska that formed in the summer of 1973.  While they were a product of a long history of Filipino labor radicalism on the West Coast, they drew upon the resources and strategies of militant black workers in Seattle's building trades.  To illustrate the fluid exchange of resources, people, and ideas between these laboring populations, I focus on two distinct, but overlapping "organic intellectual traditions" that informed the ACWA, "blues epistemology" and "manong knowledge."  In doing so, this paper offers a new framework for the study of multiracial social movement:  racial cross-fertilization.
Title:  Humanitarian Disappointments
Author(s):  Jael Vizcarra
Affiliation(s):  University of California, San Diego
Abstract:  In September 1979 after a summer conference in Geneva the Argentine military junta welcomed a contingent of 293 Cambodian, Laotian, and Vietnamese refugee families seeking asylum.  The junta cited Argentina's spirit of solidarity towards war victims as the reason for this gesture.  In the 1970s Argentina faced a population decline and an increased demand for labor in the provinces of La Pampa, Misiones, and Tucuman.  These conditions, along with the junta's interest in improving its public image abroad within a Cold War binary, provided a seemingly ideal scenario for the migration of Southeast Asians to the Southern Cone.  Refugees were culled according to their ideological and occupational characteristics to satisfy the needs of the agricultural labor sector.  Using mainstream Argentine newspapers, this paper outlines the challenges that ultimately undermined the program and the implications of this effort.  This episode illustrates the complexity of state sponsored efforts of transnational solidarity in the context of south-south refugee resettlement and the overlooked role of labor in shaping resettlement programs.
Title:  Only If You Are One of Us
Author(s):  Se Hwa Lee
Affiliation(s):  State University of New York, Albany
Abstract:  Korean wild geese mothers make up a rapidly increasing but underexplored group of middle-class Asian migrant women who cross the national borders with their children for education.  This essay discusses how Korean wild geese mothers strive to successfully perform intensive mothering and accomplish the educational goals for their children, while overcoming unexpected challenges in the host societies.  For this essay, I primarily rely on interviews of 31 Korean wild geese mothers in United States. Canada, and South Korea. I corroborate the importance of the co-ethnic immigrant community as critical resources for migrant women.  However, I also identify the special costs that these women have to pay for the legitimate access to their own ethnic community's resources and information.  Demonstrating the ambivalent impacts of the Korean immigrant communities on wild geese mothers, this essay adds a more nuanced explanation to the Asian American Studies on the complex interplay between immigrant social networks and middle-class Asian migrant women's parenting and empowerment.
Title:  The Asian American Next Door
Author(s):  Melissa Phruksachart
Affiliation(s):  City University of New York, Graduate Center
Abstract:  This essay inquires into the aesthetic modes that made the concept of "the model minority" legible for mainstream white American audiences during the late 1950's and early 1960's.  Specifically, it looks to the television sitcom, as both the television industry and Asian American communities rapidly established themselves in California during this period.  In multiple instances, Asian integration into white suburban neighborhoods met with resistance (and counter-resistance) that drew local, national, and even international attention.  Through archival research and close readings of episodes of the popular sitcoms The Donna Reed Show (ABC, 1958-1966) and My Three Sons (ABC, 1960-1965; CBS, 1965-1972), which center Asian American actors, I explore how television and its various stakeholders negotiated the incursion of Asian American neighbors.  My focus on the domestic sitcom suggests the importance of looking to the domestic as that which generates the gendered and sexualized differences through which race becomes legible.  The essay is an attempt to thicken the histories of racialized media representation away from the dichotomy of oppression and resistance.  My analysis of these Cold War enfigurations helps us think about what it means to desire race-based "realism" in popular culture, and to associate it with liberal narratives of progress, futurity, and justice.
Title:  Creative Evolution
Author(s):  Michelle N. Huang
Affiliation(s):  Pennsylvania State University
Abstract:  The interlacing of pre- and postmodern genres–mythology and dystopian science fiction–in Larissa Lai's Salt Fish Girl (2002) formally enacts the novel's meditation on genetic splicing and the boundaries of the individual human.  This article examines the novel's transpositional origin stories through a framework I call "narrative symbiogenesis," which draws from posthumanism, science fiction studies, and Asian American Studies.  Symbiogenesis, a theory articulated by evolutionary biologist Lynn Margulis, refers to a specific type of symbiosis (long-term relationships between different species) that is the primary mechanism that generates new organs, tissues, and even species.  Building off Margulis's deconstruction of an essential human organism, narrative symbiogenesis demands a concomitant reassessment of the language of singular organicity, specifically in relation to the fraught genres of origin stories and developmental narratives.  This reconsideration is particularly necessary for Asian American literature, given that logics of "biological" racial difference persist on the molecular scale even in a so-called "postracial" era.  In contradistinction, I argue the version of the human species that Salt Fish Girl presents is one of continual mutation and contamination and also one of deep interconnectivity.  Reading Lai's experimental text through narrative symbiogenesis shows Salt Fish Girl is not merely postmodern pastiche, but embodies a generic form that makes visible the process of its syncretic creation.
Title:  Third Chinese Daughter
Author(s):  Danielle Seid
Affiliation(s):  University of Oregon
Abstract:  This essay pursues two modes for reading Kim Fu's For Today I Am a Boy (2015), which tells the story of the Huangs, a working-class Chinese immigrant family living in Canada in the late twentieth and early twenty-first century, as narrated by the novel's "only son" and trans femme protagonist.  First, the essay performs a trans-generational reading of the novel that attends to the complexities of trans identity and experience within the Asian American immigrant family.  In doing so, the essay opens up critical possibilities for bringing together two discursive fields that rarely intersect in popular discourse:  trans subjectivity and racialized immigrant labor.  Reading the novel as a trans-generational bildungsroman, the essay demonstrates how familiar narratives of racialized Asian immigrant experience assume new meanings when focalized by a trans protagonist.  Second, the essay reads "from the bottom," exploring how the novel's descriptions of conditions and experiences of bottomness–in terms of race, gender, sexuality, and immigrant status–offer a critique of social hierarchies that structure contemporary North American society, and more broadly global capitalism.  In combining these two modes of reading, trans-generationally and "from the bottom," this essay urges its reader to account for the various complicated forces that shape racialized trans, femme, and immigrant subjectivity and experience.
Title:  "Sometime American Can. . .Make Mistake Too. . ."
Author(s):  Lina Chhun
Affiliation(s):  UCLA
Abstract:  This paper offers with an analysis of the unofficial register of my father's oral history interview regarding the U.S. bombing of Neak Leung.  Reading two passages in his interview for what is remembered and forgotten, I highlight the ways in which experiential registers contain the potential to reproduce as well as trouble hegemonic Cold War logics.  Transitioning to a discussion regarding the relationship between archives and contested memories in the afterlife of violence, this essay illustrates the possibilities of reading my father's story as documentation alongside what I term two "archival collections."  Analyzing how the online presence of the Documentation Center of Cambodia and artist-documentarian Vandy Rattana's work differentially fulfill the traditional archival purposes of documentation, transparency, and accountability, this paper queries the ways in which these archives might function to produce different claims to historical truth in the afterlife of violence.  In doing so, the paper addresses the following questions:  How might we make historical silences legible without reproducing a regime of truth invested in discrete events of (spectacular) violence?  How might we also do so without reifying a narrative of U.S. exceptionalism that allows us to forget the ongoing violences of militarism and empire?
Community Spotlight: Vietnamese American Arts and Letters Association
Book Reviews: 
Khatharya Um's From the Land of Shadows: War, Revolution, and the Making of the Cambodian Diaspora (Reviewed by Sheila Pinkel)
Robeson Taj Frazier's The East Is Black: Cold War China in the Black Radical Imagination (Reviewed by Ajay Kumar Batra)
Noelani Goodyear-Ka'ōpua, Ikaika Hussey, and Erin Kahunawaika'ala Wright's A Nation Rising: Hawaiian Movements for Life, Land, and Sovereignty (Reviewed by Derek Taira)
Sean Metzger's Chinese Looks (Reviewed by Cathy J. Schlund-Vials)