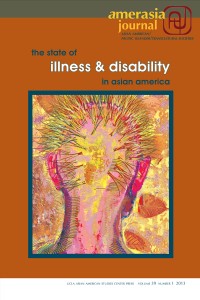 Amerasia Journal is pleased to announce the publication of "The State of Illness and Disability in Asian America," our first issue entirely devoted to Disabilities Studies. This groundbreaking interdisciplinary project is spearheaded by Jennifer Ho (University of North Carolina-Chapel Hill) and James Kyung-Jin Lee (University of California, Irvine) and features leading scholars working in the fields of Asian American Studies and Disabilities Studies.
Issue 39:1 "The State of Illness and Disability in Asian America" covers a wide variety of topics examined from a broad range of perspectives, from compelling first-person accounts to innovative research articles. This special issue tackles illness and disability from the vantage points of poetics, ethics, and politics, presenting subjects that have been previously overlooked in Asian American Studies, including autism and representations of deafness, as well as re-examining more familiar matters, such as John Okada's novel No-No Boy and the case of the "Siamese Twins" Chang and Eng Bunker. Yet no matter the topic and approach, what stands out about the contributions is the committed, urgent tone the authors use to convey their respective messages— be it a personal account of undergoing breast cancer treatments or a call to rethink the ableist figures of speech we use in politics.
The issue includes:
* Poetics: This section features creative and critical work, including a poem by literary scholar Floyd Cheung, as well as thought-provoking analyses of No-No Boy by Cynthia Wu and of the play Mother Tongue by Ellen Samuels. Crystal Parikh develops a theory of health and well-being as human rights through Asian American literary studies by her readings of Jhumpa Lahiri's short stories.
* Ethics: In this section, first-person accounts of how to cope with illness and disability are combined with historical study and pedagogical experiences. Stephen Murphy-Shigematsu tells of his first-hand experience of providing hospice care, and Kristina Chew describes what she learned about her own adolescence through the life of her autistic son Charlie. Stevie Larson offers new insights on the value systems used to judge Chang and Eng Bunker. Asian American Studies faculty at California State University, Northridge provide an account of how disability impacts the way they teach and think about teaching.
* Politics: The final section of the special issue delves into the politics of illness and disability in Asian America, tackling them through theoretical knowledge and personal experience. Mel Chen scrutinizes common tropes used in politics and the able-bodied assumptions behind them, while Alice Wong looks back at her childhood to explain how she became a scholar and activist on disability issues. Jennifer Ho, through her personal account of battling breast cancer, powerfully articulates the limits of theory in the ill body.
Published by UCLA's Asian American Studies Center since 1971, Amerasia Journal is regarded as the core journal in the field of Asian American Studies.
ORDERING INFORMATION: Copies of the issue can be ordered via phone, email, or mail. Each issue of Amerasia Journal costs $15.00 plus shipping/handling and applicable sales tax. Please contact the Center Press for detailed ordering information.
UCLA Asian American Studies Center Press
3230 Campbell Hall | Los Angeles, CA 90095-1546
Phone: 310-825-2968 | Email: aascpress@aasc.ucla.edu
Blog: http://www.amerasiajournal.org/blog/ | Facebook: http://www.facebook.com/AmerasiaJournal
Amerasia Journal is published three times a year: Spring, Summer/Fall, and Winter. Annual subscriptions for Amerasia Journal are $99.99 for individuals and $445.00 for libraries and other institutions. Instructors interested in this issue for classroom use should contact the above email address to request a review copy.