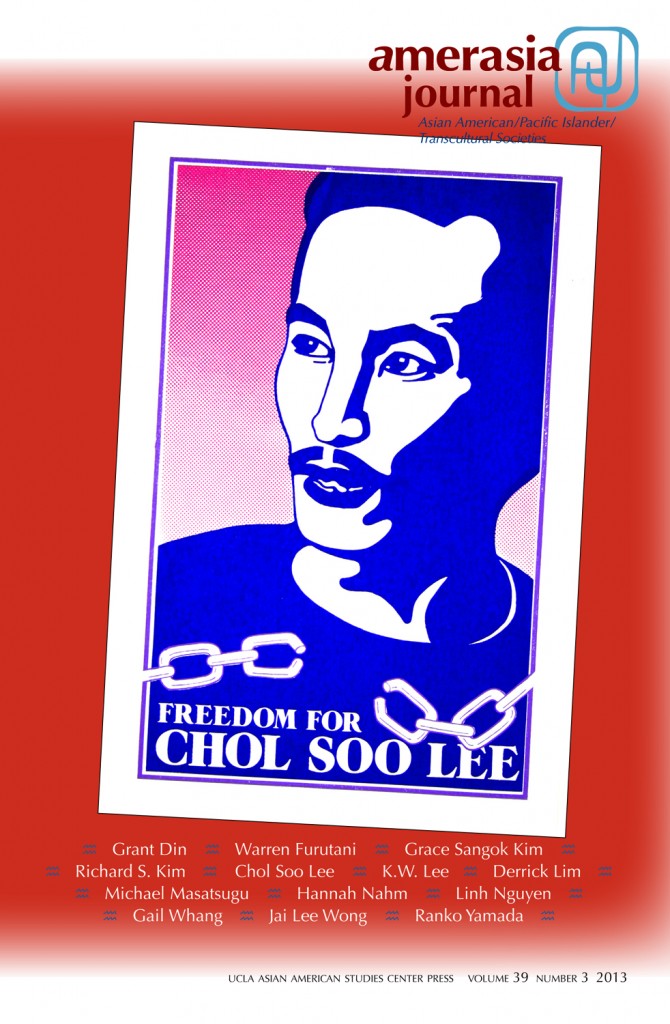 Amerasia Journal's latest issue (39:3) marks the thirtieth anniversary of Chol Soo Lee's release from death row with a forum that reminds Asian American Studies scholars and students of one of the first nationwide Asian American social movements. Pan-Asian, multigenerational, and transnational in scope, the Free Chol Soo Lee movement rallied around Lee's cause after he was falsely convicted of a 1973 San Francisco Chinatown gang murder. Coordinated with the help of Richard S. Kim (University of California, Davis), the Chol Soo Lee forum offers an excerpt of Lee's memoir and retrospective commentaries by those who worked tirelessly to free him, looking back at an important yet underappreciated moment in the formation of an Asian American consciousness. The UCLA Asian American Studies Center will commemorate the anniversary of Lee's release with an event on Saturday, December 7, 2013. Chol Soo Lee, K.W. Lee, and other key players in the movement will be in attendance.
The annual open topic issue includes the 2012-2013 Lucie Cheng Prize for outstanding graduate research, awarded to Linh Nguyen of the University of California, San Diego for her essay "Recalling the Refugee: Culture Clash and Melancholic Racial Formation in Daughter from Danang." The prize is named after the late Professor Lucie Cheng, former director of the UCLA Asian American Studies Center (1972-1987). Featured in the issue are Michael Masatsugu's essay tracing the life and career of Japanese American Beat Generation poet Albert Saijo as well as Hannah Nahm's original short story centered on the relationship between a Korean immigrant mother and her schizophrenic son.
Published by UCLA's Asian American Studies Center since 1971, Amerasia Journal is regarded as the core journal in the field of Asian American Studies.
For more information on the upcoming Chol Soo Lee event, contact events@aasc.ucla.edu or visit the Center's website. Copies of this issue will be available for purchase.
ORDERING INFORMATION
UCLA Asian American Studies Center Press
3230 Campbell Hall
Los Angeles, CA 90095-1546
Phone: 310-825-2968
Email: aascpress@aasc.ucla.edu
Facebook: http://www.facebook.com/AmerasiaJournal
Amerasia Journal is published three times a year: Spring, Summer/Fall, and Winter. Annual subscriptions for Amerasia Journal are $99.99 for individuals and $445.00 for libraries and other institutions. The annual subscription price includes access to the Amerasia Journal online database, with full-text versions of published issues dating back to 1971. Instructors interested in this issue for classroom use should contact the above email address to request a review copy.