In 1996, Amerasia Journal published one of the first extended explorations of Asian American religions with the groundbreaking issue "Racial Spirits." Eighteen years later, our new issue 40:1 "Asian American Religions in a Globalized World," guest edited by Sylvia Chan-Malik (Rutgers University) and Khyati Y. Joshi (Farleigh Dickinson University), expands the scope of those investigations of religion, paying special attention to its role in Asian American and Asian immigrant communities in the post-9/11 era.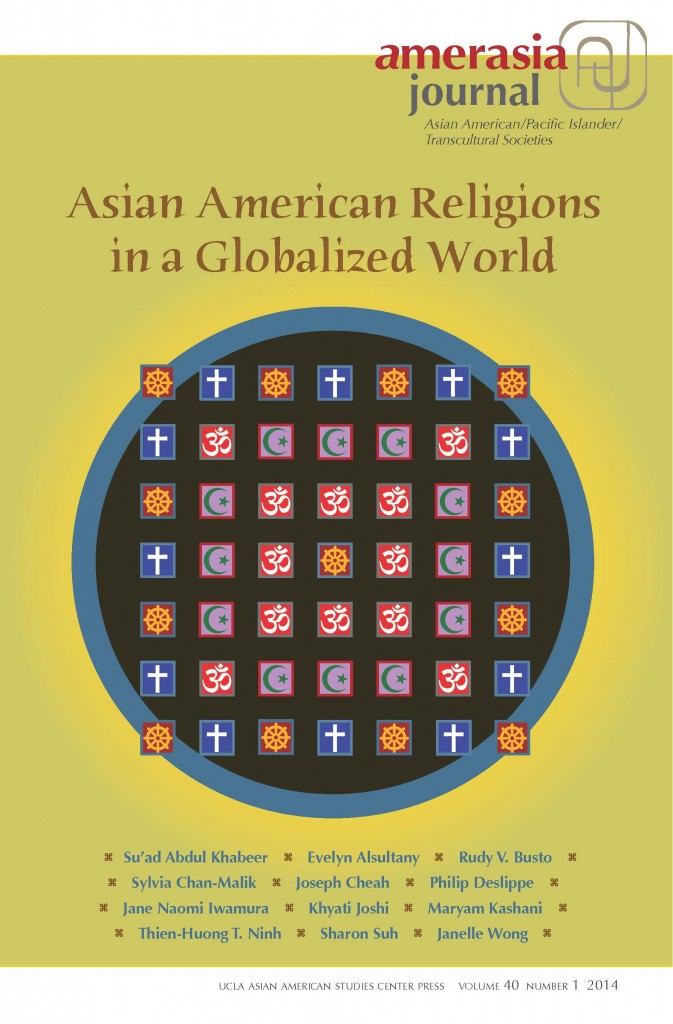 This issue addresses the changing demographics of Asian America through the lens of religious identifications and by examining growing ethnic and religious communities.  Members of the Asian Pacific American Religions Research Initiative (APARRI) responded to the 2012 Pew Forum on Religion and Public Life's report on Asian American religious practices.  They addressed some of the report's problems, pointing out how the survey's loaded questions and the report's subsequent framing are not only informed by preconceptions of Western and Eastern religions, but also shape how Asian Americans are perceived as "perpetual foreigners" by the public.  Chan-Malik moderates a roundtable on race, gender, and Islam that brings important Muslim feminist voices together and delves into key terms and concepts about Muslim experiences in the United States and how research is undertaken.  Philip Deslippe's essay shows how interracial and interreligious connections involving Asian America go further back in the early twentieth century, as he examines how representations of Hinduism and yoga transformed the African American folk religion Hoodoo.
Other contributors seek to re-orient Christianity, as Rudy Busto puts it in his piece in the special issue.  His essay "The Gospel According to Rice" revisits his earlier research on Asian American evangelical groups by tackling complex theological questions about what it means to be Asian American and Christian.  So, too, does Joseph Cheah in his autobiographical musings, as he considers racial stereotyping as a form of what he calls "social sin."  Thien-Huong Ninh's essay tackles similar issues from a sociological perspective, tracing the history of Vietnamese American Catholics in Orange County and how their attempt to create their own parish has been fraught by matters of race and church politics.
The special issue also includes a community spotlight of the Sikh Coalition and timely book reviews of Laura Kina and Wei Ming Dariotis's War Baby/Love Child and Ellen Wu's The Color of Success, among other titles.
For those attending the 2014 Association of Asian American Studies annual conference in San Francisco, Amerasia will be hosting a roundtable discussing the issue and Asian American religions at 9:45 AM on Friday, April 18, 2014.
Published by UCLA's Asian American Studies Center since 1971, Amerasia Journal is regarded as the core journal in the field of Asian American Studies.
View Table of Contents
ORDERING INFORMATION
Copies of the issue can be ordered via phone, email, or mail.  Each issue of Amerasia Journal costs $15.00 plus shipping/handling and applicable sales tax.  Please contact the Center Press for detailed ordering information.
UCLA Asian American Studies Center Press
3230 Campbell Hall
Los Angeles, CA 90095-1546
Phone: 310-825-2968
Email: aascpress@aasc.ucla.edu
Facebook: http://www.facebook.com/AmerasiaJournal
Amerasia Journal is published three times a year: Spring, Summer/Fall, and Winter. Annual subscriptions for Amerasia Journal are $99.00 for individuals and $445.00 for libraries and other institutions. The annual subscription price includes access to the Amerasia Journal online database, with full-text versions of published issues dating back to 1971. Instructors interested in this issue for classroom use should contact the above email address to request a review copy