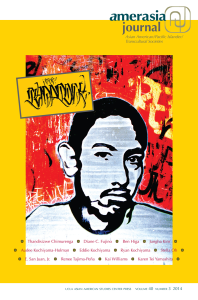 The latest issue of Amerasia Journal brings the stories of two powerful people to our readers.  The first is a 32-page tribute to the late Yuri Kochiyama, who passed away in June of 2014.  A collection of remembrances from three generations of family members (tributes that were given at her three memorials spanning August to the end of September), along with notable writers & a filmmaker who have been influenced by Kochiyama—Karen Tei Yamashita, Thandisizwe Chimurenga, Renee Tajima-Peña, and Diane Fujino—make up this tribute section, including a vintage location shot from the making of the documentary My America, or Honk if You Love Buddha.
That being said, the cover images of this issue point to a second powerful story about L.A. graffiti artist Tempt One who has been diagnosed with ALS (amyotrophic lateral sclerosis aka Lou Gehrig's Disease) for 12 years, and has been stricken with paralysis for most of those years.  It was an artistic decision on my part to put Tempt One's work on the cover because it really needs to be seen in color.  Ben Higa's article "Tempt" highlights Tempt's impact on the L.A. graffiti and art scene, and also documents the contributions of Asian Americans and Pacific Islanders to the local hip hop culture.  The UCLA AASCPress has donated 50 copies of this issue to the Tempt One ALS Foundation, to help raise funds for Tempt's continued 24-hour care.  Tempt One's story is one of amazing perseverance to keep on keeping on and expressing himself, now through an eye writer, that was developed to help him (and since, others like him) communicate with the world.
I've posted some photos of our visit with Tempt One.  Ben Higa organized the visit, which included Jose "DJ Dwenz" Buktaw, Ben, and my husband and I.  Ben hadn't seen Tempt for eight years and Jose for 11 years.  So it was a long overdue reunion that we were honored to be a part.  Tempt's dad, Ron Quan, joined us and Tempt's hospital room was quite cozy—us four visitors, Ron Quan, and Tempt's day nurse Keyasia, who took the picture of the six of us.
It was mystifying to see Tempt typing his communication with us using his eye movements to hit letters on a computer screen and then hearing a computer voice speaking his words.  I didn't realize at first that it was him talking to us through the computer, peppered with lots of "haha's." As Ben showed him the issue with Tempt's self-portrait prominently on the cover, Tempt humbly said that Yuri should have been on the cover.
It was an inspiring moment to meet this street artist who has the heart of a warrior. His struggle to keep communicating and expressing himself despite his physical paralysis just makes you stop and try to imagine the incomprehensible. His story has inspired a documentary, as well as the invention of the eyewriter, and now with Ben Higa's article in Amerasia, has opened up a peek for us into Tempt's impact in the graffiti world.
If you would like to help, you can make donations to Tempt through Paypal or by sending a check—
Checks can be made payable to:
Tempt One ALS Foundation P.O. Box 206 5280 Beverly Blvd. Suite C Los Angeles CA, 90022
Paypal donations can be made at:
http://temptone.wordpress.com/foundation/
All donations are tax deductible and go directly towards Tempt's immediate care as well as others suffering from this terrible disease.
To learn more about Tempt One—
http://temptone.wordpress.com/bio/