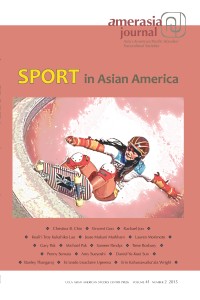 The new issue of Amerasia Journal delves into the world of sport and the roles Asian Americans have played in it.  Guest Edited by Rachael Joo of Middlebury College and Sameer Pandya of University of California, Santa Barbara, the special issue "Sport in Asian America" (Issue 41:2) explores how Asian Pacific Americans have left their imprints on the basketball court and the skatepark, the golf course and the football field.  As the guest editors note, "A study of sport can help reveal how the very ideas of community, belonging, and identity are constructed and emerge through everyday interactions and behaviors within sporting spaces."
Inspired by the guest editors' call to engage how "Asian American sports inevitably involve questions about who constitutes Asian America and the political stakes involved in these ideas of community," the issue's offerings examine how race, gender, sexuality, religion, and class intersect in sports.  The tensions between racial identity and masculinity are front and center in Amy Sueyoshi's essay highlighting the often obscured contributions of Asian American men in popularizing skateboarding in the '70s and '80s.  Stanley Thangaraj and Christina Chin provide detailed case studies of how South Asian American men and Japanese American youth, respectively, counter prevalent stereotypes of both groups with their play in largely co-ethnic basketball leagues.
The issue focuses on the social contexts and forgotten histories that provide a deeper understanding of Asian American sport.  A roundtable of education specialists and administrators reveals the challenges facing Pacific Islander student-athletes, whose presence on college campuses is hypervisible, yet whose experiences in higher education are underappreciated.  Lauren Morimoto unearths the history of barefoot football, a local variation on football played in Hawai'i's plantations in the early and mid-twentieth century.  Daniel Yu-Kuei Sun presents a different perspective on the transnational phenomenon of Linsanity, explaining how the adoption of Jeremy Lin as a Taiwanese hero reveals the nation's place as a producer and consumer in the global sports industrial complex.  Finally, author and Amerasia Journal board member Gary Pak interviews Vincent Goo, former head coach of the University of Hawai'i women's basketball team, about his own experiences and his father Ah Chew Goo's contributions to the Harlem Globetrotters and Pete Maravich's ball handling skills.
"Sport in Asian America" also spotlights the community group Pacific Islands Athletic Alliance, which acts as a clearinghouse for information on college athletics and high school student-athletes prospects from Hawai'i and American Samoa.  Books reviewed include SooJin Pate's From Orphan to Adoptee: U.S. Empire and Genealogies of Korean Adoption and Brandy Lîen Worrall's memoir What Doesn't Kill Us.
---
ORDERING INFORMATION
Copies of the issue can be ordered via phone, email, or mail. Each issue of Amerasia Journal costs $15.00 plus shipping/handling and applicable sales tax.
UCLA Asian American Studies Center Press
3230 Campbell Hall
Los Angeles, CA 90095-1546
Phone: 310-825-2968
Email: aascpress@aasc.ucla.edu
Facebook: http://www.facebook.com/AmerasiaJournal
Amerasia Journal is published three times a year: Spring, Summer/Fall, and Winter. Annual subscriptions for Amerasia Journal are $99.00 for individuals and $445.00 for libraries and other institutions. The annual subscription price includes access to the Amerasia Journal online database, with full-text versions of published issues dating back to 1971. Instructors interested in this issue for classroom use should contact the above email address to request a review copy.