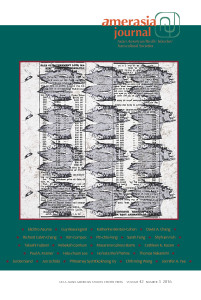 The new issue of Amerasia Journal captures the spirit of collaboration that has been a guiding principle of ours for 45 years.  The issue features vibrant discussions that stretch the boundaries of Asian American Studies.  In a forum convened by Jordan Sand (Georgetown University) of the Pacific Empires Working Group, prominent historians of the Pacific and Japan explore what defines the Pacific as a region shaped by American and Japanese imperial interests.  Members of the Taiwan-based Summer Institute in Asian American Studies reflect on their efforts to bring Asian American Studies to Asia and how to expand the dimensions of the field.  We spotlight the contributions of the Decolonizing Horizons Collective at the University of Southern California, which undertakes research that demonstrates a "commitment to decolonial gestures and colonial undoings."
The research essays in this issue advance new ground as well.  Phitsamay Uy (University of Massachusetts Lowell) sheds light on the challenges facing Lao immigrant families in New England as they navigate the U.S. education system.  The winner of the 2015-2016 Lucie Cheng Prize for graduate student research, Cathleen Kozen's essay provides a transnational "analytic which follows the ghosts of the Japanese Latin American deportees, the illegible and unredressable victim-subjects of U.S. World War II globalized military violence."
The issue makes timely interventions into politics, both global and local.  Kim Compoc (University of Hawai'i, Mānoa) shares an interview with Major General Antonio Taguba, who investigated torture and war crimes in Abu Ghraib prison during the Iraq War.  Richard Calvin Chang of Empowering Pacific Islander Communities describes how legislation to further disaggregate data on Pacific Islander and Asian groups in California came to be in Assembly Bill 1726.  On a personal note, Amerasia commemorates the passing of our founding Publisher, Don T. Nakanishi, with tributes from his son Thomas Nakanishi and mentee Jennifer A. Yee (California State University, Fullerton).
Published by UCLA's Asian American Studies Center since 1971, Amerasia Journal is regarded as the core journal in the field of Asian American Studies.
ORDERING INFORMATION
Copies of the issue can be ordered via phone, email, or mail.  Each issue of Amerasia Journal costs $15.00 plus shipping/handling and applicable sales tax.  Please contact the Center Press for detailed ordering information.
UCLA Asian American Studies Center Press
3230 Campbell Hall, Los Angeles, CA 90095-1546
Phone: 310-825-2968 | Email: aascpress@aasc.ucla.edu
Facebook: http://www.facebook.com/AmerasiaJournal
Amerasia Journal is published three times a year:  Spring, Summer/Fall, and Winter.  Annual subscriptions for Amerasia Journal are $99.00 for individuals and $445.00 for libraries and other institutions.  The annual subscription price includes access to the Amerasia Journal online database, with full-text versions of published issues dating back to 1971.  Instructors interested in this issue for classroom use should contact the above email address to request a review copy.