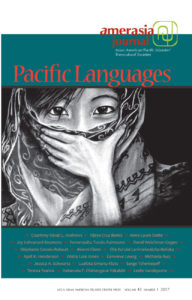 Covering a geographic region with the greatest language diversity and the lowest population density, "Pacific Languages in Diaspora"—the latest special-topic issue of Amerasia Journal (43:1)—examines efforts to preserve languages at risk of extinction from globalization, climate change, and migration.  As guest editors Luafata Simanu-Klutz (University of Hawai'i) and Akiemi Glenn (Te Taki Tokelau) explain, "vectors of push and pull are the crux of what makes the state of Pacific Island languages in diaspora such a rich site for understanding the mutability of identities, and how traditional values and modern knowledge are disseminated across networks and across distances of time and space."
The issue, which was also edited by Serge Tcherkezoff and features several works by artist Yvonne Neth on the cover, gathers research that interrogates how a multitude of Pacific Island languages have changed due to demographic shifts and social transformations.  Whether detailing the experiences of Chamorro youth in the continental United States or the hybrid, multilingual practices of New Caledonians residing in their capital city of Nouméa, the essays explore the sense of linguistic insecurity felt by populations balancing indigenous influences and encroaching globalizing forces.  Other contributions provide overarching perspectives on language change and preservation in the Pacific, be it in the parts Polynesian elders can play in passing on language and cultural traditions to younger generations or the role of teachers in maintaining endangered languages.
Forums focusing on Sāmoan and Marshallese languages, respectively, offer empirical background and personal experiences that add further depth to the research.  A group of Sāmoan speakers of varying skill-levels discuss the challenges and goals of maintaining and developing language proficiency away from Sāmoa in the U.S. and New Zealand, while a survey of diasporic Marshallese who have relocated to Springdale, Arkansas, highlight their efforts to hold on to Marshallese language and culture.  Our community spotlight on Te Lumanaki o Tokelau i Amelika Language and Culture School also demonstrates how practice and theory work in the Tokelauan community of Honolulu.  As the guest editors conclude, "We hope that there will be more language scientists, anthropologists, and creative artists who engage with the tensions among transferrals of heritage knowledge between generations and the moments of rupture, creativity, and linguistic innovation that arise at every turn."
This issue's book section features a discussion with the co-authors of Jacked Up and Unjust, which delves into juvenile criminal justice reform in Hawai'i.  Other books reviewed include David Hirsh's Endangered Languages, Knowledge Systems and Belief Systems, Bonny Norton's Identity and Language Learning (2nd Edition), Albert Wendt's Ancestry, and Judy Rohrer's Staking Claim.
Finally, it is with both sadness and gratitude that Amerasia is publishing a forum on Afro-Diasporic art in the Pacific convened by Amerasia Journal editorial board member Teresia Teaiwa, who passed away in March 2017.  The section presents essays that trace the connections between Pacific Islander cultures and African American arts, along with remembrances of Teresia Teaiwa from the contributors.
Published by UCLA's Asian American Studies Center since 1971, Amerasia Journal is regarded as the core journal in the field of Asian American Studies.
View Amerasia Journal Issue 43:1 Table of Contents & Editors' Notes
ORDERING INFORMATION
Copies of the issue can be ordered via phone, email, or mail.  Each issue of Amerasia Journal costs $15.00 plus shipping/handling and applicable sales tax.  Please contact the Center Press for detailed ordering information.
UCLA Asian American Studies Center Press
3230 Campbell Hall, Los Angeles, CA 90095-1546
Phone: 310-825-2968 | Email: aascpress@aasc.ucla.edu
Facebook: http://www.facebook.com/AmerasiaJournal
Digital Back Issue Access: http://www.uclajournals.org/loi/amer
Amerasia Journal is published three times a year: Spring, Summer/Fall, and Winter.  Annual subscriptions for Amerasia Journal are $99.00 for individuals and $445.00 for libraries and other institutions.  The annual subscription price includes access to the Amerasia Journal online database, with full-text versions of published issues dating back to 1971.  Instructors interested in this issue for classroom use should contact the above email address to request a review copy.