"Exhibiting Race and Culture," the latest special issue of Amerasia Journal, explores how visual and cultural narratives have shaped racial, social, and political landscapes for Asians and Asian Americans.  Examining how race and ethnicity have been displayed in a wide array of cultural forms, from photography to advertisement to social media, guest editors Constance Chen and Melody Rod-ari coin the concept of "metavisuality" to describe "a representational system that governs our assumptions of the world."  As the guest editors note, the essays collected here focus on how "visual discursive strategies have served as tools for imperialist projects and for facilitating power relations."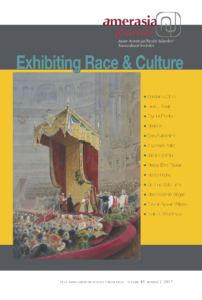 The special issue tracks how visual narratives have represented Asian and Asian American identities across a range of historical and geographical contexts.  Articles by J. Lorenzo Perillo and Marie Lo address how and to what purposes stereotypes of Filipinos were circulated at the beginning of the twentieth century, be it in dance textbooks or at world's fairs.  Similarly, Leslie Woodhouse elaborates on how the Thai royal court of the late nineteenth century used photography to project a sense of how "civilized" it was.  In a more contemporary case, Laura Kwak details the media strategies through which the Conservative Party of Canada appealed to Chinese and South Asian communities in the 2011 elections.
However, as many of the contributions to "Exhibiting Race and Culture" reveal, visual rhetoric can also be used to complicate and challenge prevailing images of Asians.  Evyn Lê Espiritu offers a reading of digital archives commemorating South Vietnamese history that queers masculinist war memories.  Mark Villegas draws out the connections between the sci-fi tropes of Filipino American hip hop and the emancipatory imaginary of Afrofuturism.  From earlier historical eras, Juily Iyn Vo Phun catalogs how Los Angeles-area Chinese herbalists used different imagery and rhetoric when advertising their services to white and Mexican clientele, while Melissa Poulsen discusses how Winnifred Eaton recast mixed-race stereotypes to critique U.S. imperialism in Japan in her rewriting of the commonplace Madame Butterfly romance.
Also featured is a reflection piece on exhibiting mixed-race Asian American art by the scholars who curated Visible and Invisible: A Hapa Japanese American History, which was displayed at Los Angeles's Japanese American National Museum and San Jose's Japanese American Museum.  The Community Spotlight profiles the USC Pacific Asia Museum in Pasadena, California.  King-Kok Cheung's Chinese American Literature without Borders is reviewed.
Published by UCLA's Asian American Studies Center since 1971, Amerasia Journal is regarded as the core journal in the field of Asian American Studies. Amerasia Journal is published three times a year: Spring, Summer/Fall, and Winter.
---
Amerasia Journal 43:2
Exhibiting Race and Culture (2017)
ISSN 0044-7471, 204 pages
Editor: Keith L. Camacho (UCLA)
Guest Editors: Constance Chen and Melody Rod-ari (Loyola Marymount University)
Contributors:
Constance Chen
Laura J. Kwak
Evyn Lê Espiritu
Marie Lo
Cindy Nakashima
J. Lorenzo Perillo
Juily Iyn Vo Phun
Melissa Eriko Poulsen
Melody Rod-ari
Lily Anne Welty Tamai
Mark Redondo Villegas
Duncan Ryuken Williams
Leslie A. Woodhouse
Community Spotlight
Book Review
Chinese American Literature Without Borders: Gender, Genre, and Form by King-kok Cheung (reviewed by Yuan Shu)
To view the guest editors' introduction, the table of contents and for abstracts, visit: http://www.uclajournals.org/toc/amer/43/2
---
ORDERING INFORMATION
Printed copies of the issue can be ordered via phone, email, or mail.  Each issue of Amerasia Journal costs $15.00 plus shipping/handling and applicable sales tax.  Please contact the Center Press for detailed ordering information.
ONLINE ACCESS
Access the issue online at http://uclajournals.org/. Full access to this issue and back issues are available through institutional or individual subscriptions or by purchasing articles individually.
SUBSCRIPTION INFORMATION
Annual subscriptions for Amerasia Journal are $99.00 for individuals and $445.00 for libraries and other institutions.  The annual subscription price includes access to the Amerasia Journal online database, with full-text versions of published issues dating back to 1971.  Instructors interested in this issue for classroom use should contact the above email address to request a review copy.
UCLA Asian American Studies Center Press
3230 Campbell Hall, Los Angeles, CA 90095-1546
Phone: 310-825-2968 | Email: aascpress@aasc.ucla.edu
Facebook: http://www.facebook.com/AmerasiaJournal
Digital Back Issue Access: http://www.uclajournals.org/loi/amer